Alternatives to When You're Behind on Payments
You have options!
Below are 9 Options When Facing Foreclosure
DO NOTHING- If you do nothing, you will most likely lose your home at a foreclosure auction. Loan applications generally ask if you have ever been foreclosed upon. Credit reports also disclose this damaging information. Usually not the best option.
PAYOFF/REFINANCE- Completely pay off your loan amount plus any default amount and fees. Usually this is accomplished through a refinance of debt. New debt is at a normally higher interest rate and there may be a prepayment penalty because of the recent default. With this option, there should be equity in the home.

REINSTATEMENT-

Paying the entire default amount plus interest, attorney fees, late fess, taxes, missed payments and fees.

LOAN MODIFICATION- Utilizing the existing mortgage company to refinance the debt or extend the terms of the loan. This may allow you to catch up at a more affordable level. to qualify, you must prove to the lender you have fixed the problem that caused the late payment.
FORBEARANCE- Lender may be able to arrange a repayment plan based on your financial situation. The lender may even be able to provide a temporary payment reduction or suspension of payments. Information will be required from the lender to show that you are able to meet the new

payment plan requirements.

PARTIAL CLAIM- A loan from the lender for a 2nd loan to include back payments, costs, and fees.
DEED-IN-LIEU OF FORECLOSURE- Give the property back to the bank instead of the bank foreclosing. Banks generally require the home be will maintained. Most loan applications will ask if you have ever had a Deed-in-Lieu of Foreclosure.
BANKRUPTCY- This option can liquidate debt and/or allow more time. We will refer you to a qualified bankruptcy attorney upon request.

Chapter 7 (Liquidation) To completely settle personal debt.

Chapter 13 (Wage Earner Plan) Payments are made towards a plan to pay off debts in 3-5 years.

Chapter 11 (Business Reorganization) A business debt solution.

SALE- If the property has equity (money left over after all loans and monetary encumbrances are paid). You may sell the home without lender approval through a conventional home sale. In this case, you will receive cash from the sale. On the other hand, a Short Sale may be negotiated with your lender if you owe more than the property is worth.
---
Below, you will find the weekly lender questions that you want to ask yourself before taking the next steps.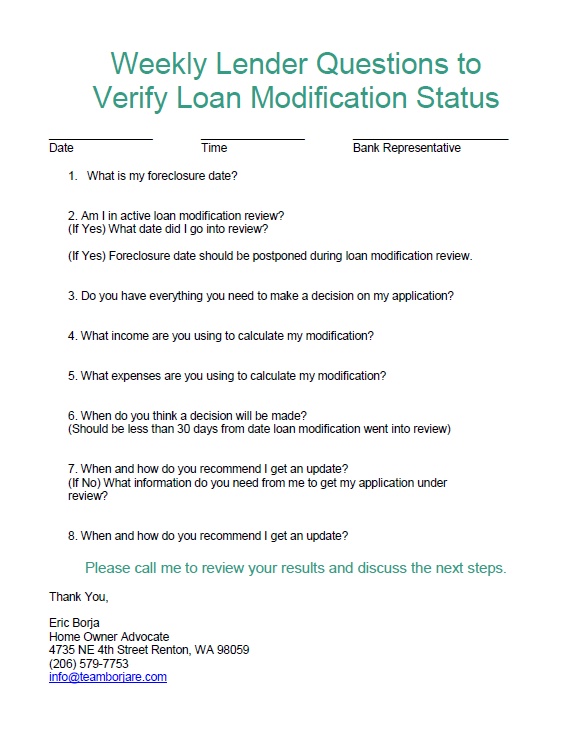 ---